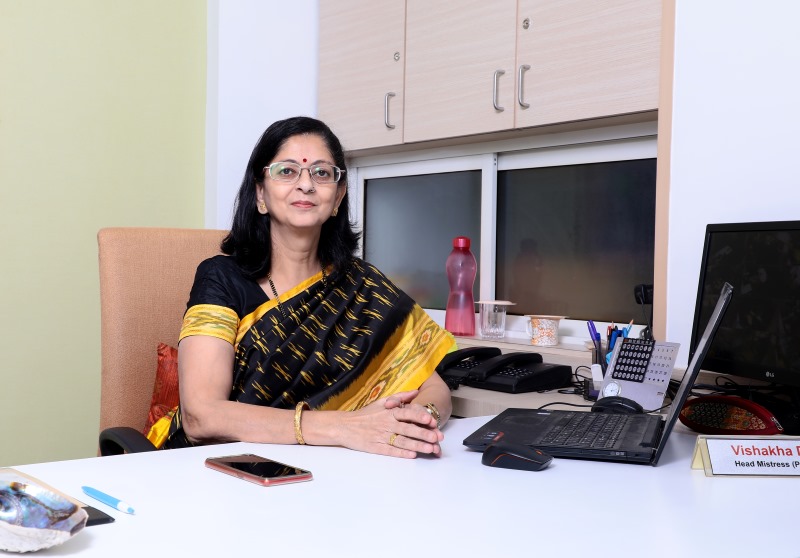 Mrs. Vishakha Deshpande, Head - Pre Primary Section.
She holds B. A. degree with Economics and specialized in Early Childhood Care and Education with a Diploma & has been in the Early Childhood Education field for 27 years.
She is a regular invitee in National and International Conferences to share her expertise and read research papers on various topics related to Early Childhood Education. She is the Ambassador of India for the World Forum Foundation USA.
As a researcher, she has been instrumental in developing content and designing Developmentally Appropriate Curriculum for Pre-Schools, nationally and internationally. She has been the Working group member of the Curriculum Research team of World Forum Foundation. At present she is the leader of the Curriculum Working Group along with Patrick Mokokoro of Zimbabwe. (www.worldforumfoundation.org/curriculum)
She has been identified and honoured as 1 out of 40 'Promising Emerging Leaders' in Early Childhood Education amongst 191 candidates from around the globe.(www.ChildCareExchange.com/leadership)
She is the National representative and state secretary of Maharashtra Balshikshan Parishad and works hand in hand with Grammangal, an NGO started by veteran Educationist Anutai Wagh. She is an eminent Teacher Educator and has trained more than 3500 teachers in 6 states of India and the United States of America.
She continues to serve as a Resource person for ECE for the Oxford University Press – Pan India (https://india.oup.com) and has been with Yeshwantrao Chavan Maharshtra Open University Nasik for their Distant Education Early Childhood Teacher training course.
Vishakha is a regular Key Speaker on All India Radio and Television channels. (ref-https://www.youtube.com/watch?v=quhp8jOA0mU)
An eminent amateur theatre artist, Vishakha Deshpande is a Writer and director of Children's dramas. She believes that incorporating drama in pre-school curriculum is of utmost importance.
'Knowledge stream for every dream" is her mission statement.
Sangeeta R. Chavan, Teacher.
She has done her LLB and ECCEd from Mumbai University and Icon Institute respectively. In addition she holds a degree in entire Psychology. She has an overall experience of 3 years in pre-school teaching.
She believes that pre-primary education is a child centred programme which follows a play-way method. She thinks that the job of a teacher is not limited to teaching formally but to provide supportive environment to students to learn. Her enthusiasm would influence students to participate in many activities other than studies. She has the ability to bring out student's hidden talents.
With her experience and knowledge in psychology, she has accepted her role of being a good teacher.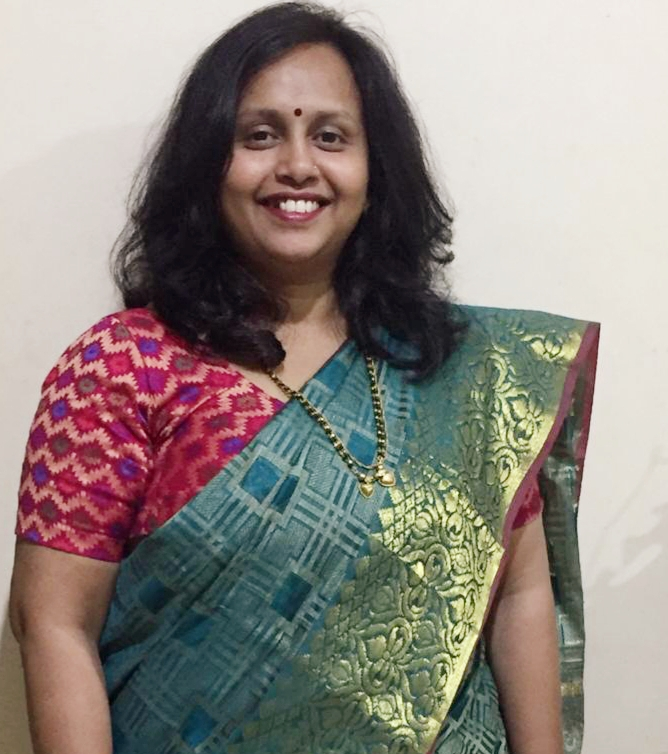 Mrs. Madhuri Aher, Teacher.
She began her teaching career in 2014 with a reputed institute in Thane. She graduated with B.A in Economics and holds Diploma of Early Child Care Education from Adroit Institute -Mumbai. She is caring, loving and an enthusiastic person. She believes that children have great energy source in themselves and every child has unique personality so as a teacher we need to provide them opportunities to learn from explorations.
She has attended several workshops regarding early child education and aims to incorporate them in her time with the students. She promises to be a facilitator rather than a teacher and help children to explore on their own.
Mrs. Swampa Mohite, Teacher.
She is a graduate from Mumbai University and a Diploma holder in ECCED, Handicraft and Montessori, has a passion for uncovering unique things. She is open to learning and discovering new things. She is also a classical dancer (Kathak).
Being a teacher, she believes that every child can reach his learning potential with high expectations, necessary support, opportunities and caring classrooms. Our approach should make children feel that they are important part of our life. She also believes that children should be motivated to learn by appreciation in the form of small prizes etc for their contribution or skills that they have developed.
We welcome her to our team and wish her a bright future.


Poonam Chhatre, Teacher.
Poonam Chhatre loves to take challenges in professional life. She loves being around kids and interact with kids which stimulates their mind and encourage them to endorse lots of ideas. Poonam has done her graduation in commerce and diploma in Aviation. She has worked with reputed organisations in India like Carlson Wagonlit Travels Pvt. Ltd. She has done her E.C.C.Ed from National Academy and has 3 years of work experience as a Teacher and Co-ordinator in the Pre-primary school. Her hobbies are cooking and listening to music. She loves to teach kids in a play way method as teaching concept using real objects, games, puzzles songs and dance help children develop interest about that topic. She strongly believes that kids grasp everything when they are in a playful mood.
Aruna Surlekar, Teacher.
She is a commerce graduate. She holds a Diploma in Travel and Tourism and has experience of 6 years in Customer interactive work. She has also worked with (IATA) International Air Transport Association for one year.
Since Childhood, dancing is her passion and she has Visharad in Bharatnatyam.
Being interested in child psychology she went on to complete her Diploma in ECCED and Montessori. She is highly motivated, enthusiastic and committed educator with innate ability to understand and motivate children. She believes that each child is special and unique and should never be compared.


Geetanjali Amrute, Teacher.
She is a LLB graduate and has practiced in solicitor firm for three and a half years. Her passion for young children encouraged her to take up course in ECCED and found it more interesting, hence diverted her work. She has three years of experience in preschool teaching.


She believes that every child is unique. They should learn at their own pace. She enjoys teaching preschool children and watching them achieve greater heights.
Mrs. Akshataa A Kasturey, Teacher.
She is a B Com graduate and holds a Diploma in early Child hood Care and education. She also holds a masters degree in Library Science. She loves to conduct cultural activities like drama, Musical Drama for Children. She feels drama is a way of giving and feeling expression and a way of expressing thoughts. With the help of drama we can bring out the hidden talent from these small children which will help them to be a good human being.


Hetal Modi, Teacher.
She is a Commerce graduate and has completed Diploma in early childhood care & education. She has also completed Diploma in Export and Import management. She has teaching experience of One Year and also worked in Export Import firms in administration and documentation dept. Her hobbies are listening Music, Dancing, Travelling and teaching.


She loves children and likes to spend time with them. She feels that children are like mirror. Like Mirror never says lies, children always say the truth.
Swapnali Manjrekar, Teacher.
She is a Commerce graduate. She has and experience of 8years in the corporate sector(TCS, JLT co.). Thereafter, having an interest in teaching she pursued a Diploma in Early Childhood care and Education.


She loves teaching and believes that each child should be given the freedom of self-expression.


Teaching is a highly transferable skill. One of the main reason for wanting to teach is devotion to lifelong learning.


Mrs. Kumud More, Teacher.
She is science graduate. She has completed Diploma in early childhood care and education. She loves to spend time with kids. She likes to be a facilitator for them. She believes that children have their own imaginations and ideas. We have to accept it and give the opportunities to explore them. She also encourages them to blossom their personality.
Manisha Dhale, Teacher.
She is a commerce graduate and has completed her training in Early Childhood Care and Education. She has also completed Diploma in International Airline and Travel Management, Diploma in Computers and Typing. She has teaching experience of three years and has also worked as Computer Operator and Marketing Executive. Her hobbies are singing, dancing, travelling, stitching and drawing. She has a passion for teaching small children and hereby performs her duty as a facilitator.


Aparna Jeste, Teacher.
Aparna Roopesh Jeste has a Master degree in Literature and holds a Diploma in system Management. Though she worked as a Customer Support Executive in various corporate companies, she eventually realised that she is passionate about small children and would love to work in Early childhood education field. Hence she diverted and now with one year experience in this field, continues to nurture her passion. She strongly believes that every child is gifted with some thing by God and is capable of doing great things if given the correct tools and right environment.
Mrs Pramila. D. Patil, Teacher.
Mrs Pramila. D. Patil is a Software Engineer, but she had a passion to teach and mentor, so pursued Diploma in Education (D.Ed.) & Early Childhood Education (ECCED). She has overall 6 Yrs. of teaching experience. She firmly believes that children are quick learners and teacher helps them to mould and bring out the best in them.


Radhika Gupte, Teacher.
She is a commerce graduate from Mumbai University and has done DECE from IGNOU, ECCED from Daffodils. With her 7+ years of experience working with top corporate companies such as HDFC Bank, Siemens and her 6+ years of experience with top national and international brands in pre-primary education such as The Learning Curve, Kidzee, Podar Jumbo Kids, she understands the importance of education in every child's life.


She believes that every child possesses a unique thinking ability and an individual personality. As per her, it is necessary to guide the children and not to lead them to move in a particular direction. And as a guide allow the children to choose their own learning and playing style. She enjoys becoming a partner in their learning and encourage them to find their own answers. She values her commitment to the prerogative of safety of her students.


In her past assignments, she has been consistently rated as the most liked teacher by kids/parents because of her ability to patiently listen to the kids, develop understanding into their thought process and make them enjoy their first few steps into their long journey of education.
Hemlata Nawale, Teacher.
Hemlata teacher is presently pursuing her BA in literature. As she loves children very much, she had done her E.C.C.Ed, because she thinks children are only the one who brings smile all time on our face.
She is having five years of experience in teaching and two years as a shadow teacher and two years as a shadow teacher which gave her a different experience in her life. She has also worked as a teacher with an N.G.O called L.C.C.W.A. in Powai for 1 year.
Dancing is her passion and love to listen to music. Reading is also her hobby.


Gayatri Dhotre, Teacher.
Gayatri Dhotre, is commerce graduate. She has done ECCED (Early Childhood Care Education). She has worked with various reputed institution (Rainbow, Makoons, Little Millennium) and has 5 years of experience. As teaching is her passion. She believes, that teachers are the sculptures who moulds the child and develop further their potentials to the fullest. She always believes that honesty and hardwork would lead to achieve the goals in life. Her hobbies are dancing, watching movies, yoga and reading different books.
Samiksha Desai, Teacher.
She is a B.A. graduate. She has completed diploma in early childhood care and education. She believes that teaching is a very noble profession that shapes the character and future of an individual.


Mrs. Sagayamary Carassco, Teacher.
She has completed Early Childhood Care and Education. She has eight years of experience in teaching field. She loves teaching and believes that child should be given the freedom of self – expression. Her hobbies are singing, dancing and being with kids